Brixton stabbing: Youth, 16, accused of Junior Nkwelle murder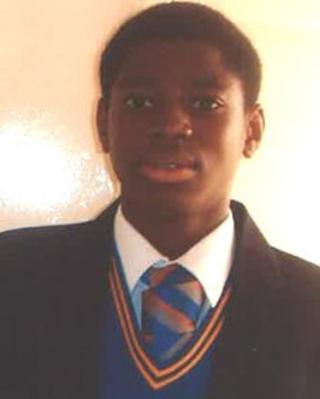 A 16-year-old boy has been charged with murdering a teenager described as a "role model" to his south London community.
He is due to appear at Camberwell Youth Court later alongside a 14-year-old girl, who is also accused of killing Junior Nkwelle, in Brixton.
The victim, 15, was found fatally injured on the Loughborough Estate, just before 21:30 BST on Thursday.
A "very good" footballer, he was pronounced dead at the scene.
Flowers were laid in his memory outside a block of flats on the estate.
Several tributes were also left for him, one of which said: "If football be the food of love 'Play on'. RIP young fella."
Solomon Smith, 27, a youth support worker at nearby Marcus Lipton Youth Centre, said the dead boy had been a "quiet guy".
He said: "He was one of our locals, and had been coming here for about two years.
"He was a very good footballer."