Free travel restored for 60-year-olds in London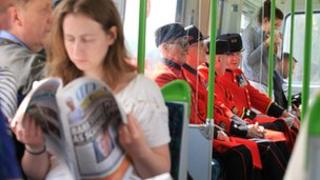 Londoners aged 60 will be entitled to free travel on the capital's transport system again.
The government raised the eligibility age for free travel in line with the state retirement age for women from 2010.
This meant people had to be at least 61 to qualify.
But Mayor Boris Johnson pledged to lower the age of eligibility for all Londoners to 60.
Transport for London (TfL) is introducing the new 60+ Oyster Photocard scheme from 1 November.
It allows free travel on all TfL services and some national rail services 24 hours a day, seven days a week, from the user's 60th birthday.
'Felt cheated'
Like the existing Freedom Pass, it will also allow passengers free travel outside of morning peak hours on other national rail services in the capital.
Application for the 60+ Oyster Photocard begins on 17 October and more than 100,000 applications are expected. There is a £10 fee.
A further 10,000 Londoners are expected to become eligible for the scheme each month.
Mr Johnson said: "Londoners who have grafted all their lives and expected to receive free travel on retirement just as those before them quite rightly felt cheated when the age escalator removed the Freedom Pass from their grasp.
"I promised to restore this right to travel for free on the capital's transport network for every Londoner from their 60th birthday.
"From November, this will be the case when hundreds of thousands of people will be armed with their 60+ London Oyster card, enjoying all our great city can offer."
The Freedom Pass is funded by London boroughs. For 2012-13, for example, local authorities are paying £317m.
The 60+ Oyster Photocard will be funded with £20m from TfL's budget in its first year, a spokeswoman said.
Once people reach the age to qualify for a Freedom Pass, they will need to make a fresh application.
The cost is anticipated to increase as more people become eligible.
People living in England are entitled to a bus pass giving free off-peak travel on local buses once they reach the eligible age.
The Freedom Pass for people living in Greater London goes further, allowing free travel on the entire TfL network.
The Freedom Pass can also be used England-wide, but only during off-peak times outside of London.
People can apply for the 60+ Oyster Photocard online. Those that cannot complete the form online can call TfL's Customer Contact Centre for help.