Jailed squatter Alex Haigh's mother calls for leniency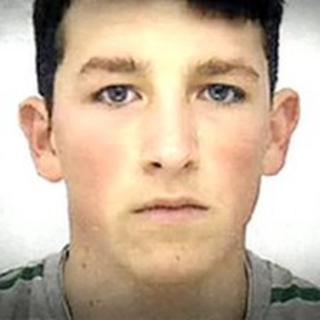 The mother of a 21-year-old man who was the first person to be jailed for squatting has said there should have been more leniency.
Alex Haigh was jailed for 12 weeks by Westminster Magistrates' Court for squatting in a flat in Pimlico, London.
Janet Haigh, from Plymouth, said she was in tears after her eldest son called her out of the blue from Wormwood Scrubs prison.
The government said squatters had been "playing the justice system".
Mrs Haigh's son was arrested by police at a flat in Pimlico on 2 September.
'No angel'
He pleaded guilty to squatting in a residential property.
Squatting was previously treated as a civil matter. The maximum penalty is now six months in jail, a £5,000 fine, or both.
Mrs Haigh, 46, said her son was "no angel" but it was wrong to tar all squatters with the same brush.
"He was totally shocked when he spoke to me, he couldn't believe what was happening.
"He said he had been squatting in a housing association flat which had been empty for a year and had caused no problems to neighbours."
She had not realised her son, who went to live in London in the summer in an attempt to find work, was living in a squat.
'Felt safe'
"He had been living in a hostel but had left because it was full of alcoholics and drug addicts," she said.
"Like a lot of people, Alex just wanted somewhere where he felt safe."
Haigh and two other people, Anthony Ismond and Michelle Blake, had been squatting at the housing association property in Cumberland Street.
Ismond was fined £100 for squatting and recalled to prison on breach of licence while Blake will be sentenced at a later date.
Some neighbours where the three were squatting told BBC London of their surprise at Haigh's sentence, saying the squatters had not been causing any harm.
Mrs Haigh said she and her husband Peter would be visiting their son, the eldest of three children, next week.
'In tears'
She said: "When he called me to say he had been arrested he had two minutes and the phone went dead, there was not enough time to get any more information.
"I was distraught, phoning the prison and the police to find out what was going on.
"I was in tears, like any mum would be.
"I think they've made an example of him, but when you dig deeper, there are many people who cannot live in hostels and they need help.
"I'm not saying Alex is one of those but the law is now treating people who are genuinely homeless as criminals."
A Ministry of Justice spokesperson said: "For too long squatters have been playing the justice system and have caused homeowners untold misery in eviction, repair and clean-up costs.
"It is extremely encouraging that the new criminal offence of squatting in a residential building, which came into effect at the beginning of this month, is enabling the police and other agencies to take quick and decisive action to protect homeowners against squatting."