Warren Allen cleared of Kelvin Easton nightclub murder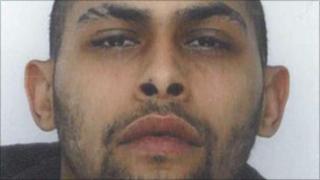 A man has been cleared of murdering a clubber who was stabbed four times in east London.
Kelvin Easton, 23, died after being attacked in the Boheme nightclub in Mile End Road, Bow, in March 2011.
Warren Allen, 30, of Holloway, north London, was alleged to have been the knifeman but was found not guilty of murder at the Old Bailey.
His former girlfriend Nathania Simon, 24, was found guilty of one count of perverting justice by lying to police.
She was remanded on bail for sentencing next month.
'He disappeared'
Courtenay Griffiths QC, defending, told the court that Mr Allen did not attack Mr Easton.
A cousin of Mr Allen had been stabbed earlier in the evening at the club, Prosecutor William Boyce QC previously told the jury.
It was alleged that Mr Allen went looking for Mr Easton at the club, which was filled with 500 people.
"There was a rush of seven or eight men, brushing aside anything in their way, clearly heading for Kelvin Easton," Mr Boyce said.
Mr Easton went down a flight of stairs and collapsed after he was beaten up and stabbed with two knives, the court heard.
Mr Boyce said Mr Allen was behind him and was later found to have a stab wound to his shoulder.
After being driven to a north London hospital where he was admitted under a different name, Mr Allen allegedly walked out wearing a hospital gown and with a cannula still in his arm, the court heard.
"He removed them in the street and disappeared for about eight months," said Mr Boyce.
Mr Allen went on the run because he heard from other sources there were people looking for him, and police visited his address because they were concerned about his welfare, his lawyer said.
He was arrested eight months later at the home of a relative of Simon in West Hanney, Oxfordshire, the court heard.
Mr Boyce said Simon spent nights with Mr Allen in hotels, including one in Brighton.
Mr Allen did not give evidence.