Strike ballot over tests for driverless Tube trains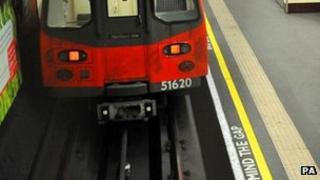 Tube workers are to be balloted for strikes in protest at plans to test driverless trains.
Rail Maritime and Transport union (RMT) members will vote on industrial action ahead of preparations to test trains without drivers.
The union said it would initially ballot its members who are set to take part in the trials.
Transport for London (TfL) said any call for action at this stage was "ludicrous".
London Mayor Boris Johnson said during his election campaign driverless trains would be operational within a decade.
RMT general secretary Bob Crow said: "RMT reiterates this union's complete opposition to driverless trains. Every train must have a driver to ensure the safe and effective running of the Underground.
New fleet
"Plans to scrap drivers or reduce their driving duties are risking safety, services and jobs and are motivated by saving money and undermining trade unionism."
In the summer the RMT claimed London Underground (LU) planned to move the entire Jubilee line to driverless operation within three years, with trials starting later this year, with other lines to follow.
TfL denied this at the time.
Mike Brown, LU's Managing Director, said: "A fleet of 191 new trains which have a driver's cab, like all of our existing trains, are now being delivered for the Metropolitan, District, Circle and Hammersmith and City lines.
"We have no design, no order in place and no programme for any further purchase of new trains at this time.
"We have always made it clear that we will continue to explore new technology as it develops - in common with every other metro around the world - but any call for industrial action at this point is ludicrous.
"On jobs, there are no plans in place for any further staffing changes at present."