Metropolitan Police faces £500m 'cuts challenge'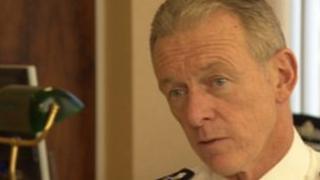 The Metropolitan Police "will know by December the full scale of cuts" facing the force.
Commissioner Bernard Hogan-Howe said the force had to save £500m by 2015.
BBC London understands that up to 6,000 officer posts and 2,000 civilian staff jobs could go, but Mr Hogan-Howe refused to comment on exact figures.
There are currently 31,853 officers in the Met and 15,000 civilian staff. Mr Hogan-Howe said 1,900 posts had already been cut.
Speaking shortly after the first anniversary of his appointment, Mr Hogan-Howe said total staff levels could be down to 50,000.
'Leaner' force
"Certainly it would be a worry if that did happen (officer numbers fell below 31,000), but I am hoping we won't... There are always challenges in the wings that we have not seen, so that is why it's vitally important that we do this work and we work out exactly how many people we can employ."
He added: "We were protected a little this year because of the Olympics, because we wanted to make sure we were kept safe in that very testing time but by Christmas we will know very clearly where we are going to find the savings over the next few years."
He said it was possible the force could "end up with more constables than we have ever had, even if we have overall less than 50,000 people".
"We are intent on investing in the frontline and making sure that the people who do the job are out there and keeping London safe," he said.
Despite the "huge" £500m savings target "we will probably end up more efficient, a bit leaner, a bit meaner but we will be effective", pledged the Commissioner.
Among the areas being looked at for possible savings are a cut in management costs, a review of estates across the capital and IT costs.
Mr Hogan-Howe said the force would consult local people before making big changes in local policing.
His appointment as Commissioner in September 2011 followed a period as Acting Commissioner in the period after his predecessor Sir Paul Stephenson's resignation.