Pair detained over Ezekiel Amosu bus chase death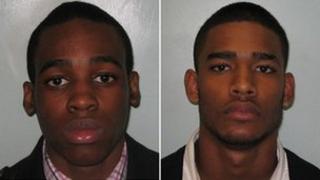 Two teenagers who chased a boy to his death under a bus in east London have been detained for four years.
Ezekiel Amosu, 17, was hit while trying to escape the pair in Walthamstow in January 2011, the Old Bailey heard.
Trae Hudson, 17, of Enfield, north London, and Cliff Perreira, 16, of Walthamstow, east London, were found guilty of manslaughter last month.
The judge said Ezekiel lost his life due to their "bullying actions".
Jurors heard Ezekiel was crushed by the 123 bus in Forest Road after tripping as he ran away from Hudson and Perreira.
Judge Charles Byers told the defendants: "A young man who had huge potential, who was talented and loved by all, lost his life as a result of your thoughtless and bullying actions."
Large stone
During the trial prosecutors told how the pair had chased Ezekiel, threatening him with a wooden stick from a fence and throwing a large stone at him.
Sarah Plaschkes, QC, prosecuting, said: "He must have been terrified.
"The defendants gave chase. It must have been obvious that Ezekiel may go into the road."
Judge Byers said: "He was so frightened that he fled into busy traffic. He clearly must have felt outnumbered and terrified to escape the way he did.
"One can only hope and pray he knew nothing of his fate and did not suffer."
Hudson and Perreira were both cleared of attempted robbery while Hudson was also found guilty of conspiracy to pervert the course of justice.
A 15-year-old boy, who cannot be named, was found guilty of perjury and placed under a rehabilitation order. He was cleared of all other charges.
A fourth defendant, who cannot be named, was cleared of all charges.