Dan Hunt search: 'Mountain flyer' thanks saviours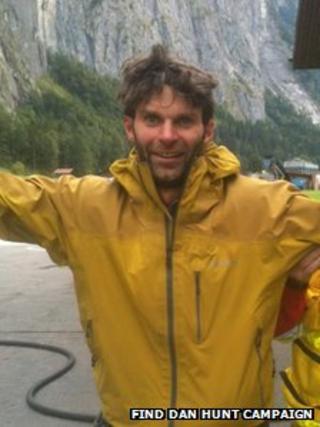 An extreme sports enthusiast from west London who went missing in the Swiss Alps for days has thanked those who helped rescue him.
Dan Hunt, 33, from Shepherd's Bush, was speed flying off a mountain on 15 September when he went missing.
He was found in a canyon where he had been trapped for 68 hours.
Nearly £14,000 was raised from a Facebook campaign to help search for him after his insurance, which initially paid for the search, ran out.
Speed flying involves flying a small fabric wing down a steep slope at speeds of up to 75mph.
Mr Hunt, who owns an organic food shop in Turnham Green, west London, was thought to have had only water and a few snacks on him while he was trapped.
On Sunday he used Facebook to tell those who helped him: "This time a few days ago I was still trapped in a deep canyon from which there was no possible escape and I was starting to think that I wouldn't be a part of this beautiful world for much longer.
"You have all done something truly remarkable and I am still struggling to find the words to express how I feel about the events of the last few days.
"To be pulled out of the ravine by my buddies was the most mind-blowing experience possible."
He went on: "To my mates in the speed flying community who travelled to Lauterbrunnen from the UK and around Europe to come and get me, and to those at home who worked the fundraising campaign, you are the most legendary bunch of mates in this entire world and you have shown that our community has something special that we should be forever proud of.
"Thank you for refusing to leave a man behind."
Mr Hunt was with two friends who jumped off the Jungfraujoch at a height of 11,333ft (3,400m).
He was supposed to be four minutes behind his partner, Tim Good, but failed to arrive at the agreed landing site.
The funds paid for three extra helicopter searches.
Volunteers from Germany, France and Switzerland also helped as did internationally renowned climber Ueli Steck who searched the glacial valley.