Lloyds bank worker Jessica Harper jailed for £2.4m fraud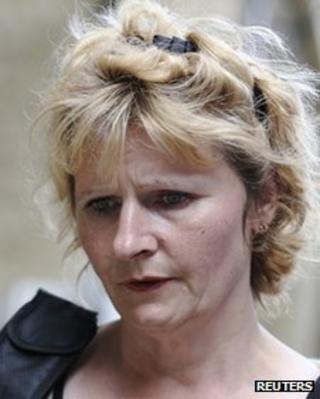 A former Lloyds bank worker in charge of online security has been jailed for five years over a £2.4m fraud.
Jessica Harper, 50, submitted false invoices to claim payments between 2007 and 2011.
At the time, she was working as head of fraud and security for digital banking at the company.
Harper, of South Croydon, south London, admitted fraud by abuse of position and transferring criminal property defrauded from her employers.
She submitted 93 false and doctored invoices to pay herself £2,463,750, giving large sums to friends and her three brothers to invest in property.
'Disregarded your duties'
Harper had been earning £60,000-a-year at the time, and her role at Lloyds Banking Group, which includes Lloyds TSB, Halifax and Bank of Scotland, involved fighting fraudsters.
Judge Deborah Taylor told her: "You were a senior employee in the bank in a position with a high degree of trust at a time when Lloyds was substantially supported by a lot of taxpayers' money following difficulties sustained by the bank in the financial crisis.
"You disregarded your duties out of a sense of entitlement to take other people's money for your own benefit and that of your family."
Judge Taylor said she thought Harper had personally benefited from the swindle, something Harper denies.
Harper had told investigating officers she deserved the money because she was rising at 5.30am and returning home at 8pm.
She said: "I saw the opportunity and thought: 'Given the hours I work I deserve it'.
"If I went to work for another company I would probably be earning four times as much."
Work 'all-consuming'
Harper's brothers, Simeon, Matthew and Gareth Tyrell, told of their "shock, upset and surprise", claiming they thought she had earned the money legally, the court heard.
In mitigation, Carol Hawley, defending Harper, said her client had a long history of charity fundraising.
She was given character references by Croydon Council and a local school.
Ms Hawley said: "She was working under a huge amount of pressure and for a long period of time.
"She describes that period of her life when work became all- consuming.
"She still today struggles to explain the reason behind her behaviour."
Harper has sold her home and has so far repaid £709,000.