Barnet councillor Brian Coleman arrested over assault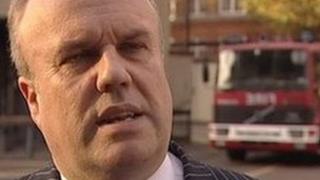 The ex-mayor of the London borough of Barnet has been arrested on suspicion of common assault.
Conservative Brian Coleman was detained after an incident in Finchley and has now been bailed.
The Metropolitan Police said a 51-year-old man was held on Thursday over an "alleged common assault", and is due to answer bail next month.
Mr Coleman lost his seat on the London Assembly during the City Hall elections in May.
He was at City Hall for 12 years and was one of the Tories' highest profile names in London politics to face defeat in the elections.
In a statement, the the Met said: "A 51-year-old man was arrested on Thursday 20 September in connection with an alleged common assault.
"He was taken to a central London police station and was subsequently bailed to attend a north London police station in late October pending further enquiries."
The loss of his seat also meant Mr Coleman relinquished his position as chair of the London Fire and Emergency Planning Authority (LFEPA).
He is currently a Tory councillor in Totteridge, and is also the chairman of the Budget and Performance overview and Scrutiny Committee.