Gangster Charlie Richardson was 'no angel'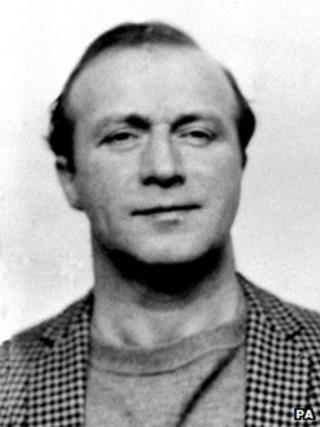 Given the gruesome tales of torture that have been the trademark of Charlie Richardson's legend, it is perhaps unsurprising to hear him described as "no angel".
In 1967 Richardson - who has died from blood poisoning aged 78 - was jailed for 25 years for fraud, extortion and assault.
Jurors heard how his gang - rivals of the Kray brothers' organisation - would nail their opponents to floors, pull out their teeth with pliers and cut off their fingers and toes.
But Richardson always denied the torture allegations - a claim backed by his best friend.
Bobby Cummines, a reformed bank robber, told the BBC: "A lot of the stuff written about Charlie was embellished.
"He was in South Africa when all that [the torture] was going on. "
In an interview for a History Channel documentary, Richardson admitted he had tried to bug Prime Minister Harold Wilson's phone for a South African intelligence group.
'Not the devil'
Cummines said: "Charlie was a small pawn in a big political game."
Cummines met Richardson in Parkhurst Prison, where Reggie Kray was also an inmate.
Richardson had become one of the most feared criminals in the UK, with his south London-based organisation - known as the Torture Gang - pursuing fraud, gambling and protection rackets.
His friend said: "Charlie was no angel - but he was also not the devil they tried to portray him as.
"In his later life Charlie was a good father and a loving husband.
"The only people who got on the wrong side of Charlie were other people trying to rob him.
"Charlie was very old school - he respected the elderly and if someone was in jail he would help out their families with groceries and so on."
'Philosophy discussions'
Cummines claims he and Richardson were in the process of setting up an organisation to steer young people away from crime.
He said: "We knew he was an unwell man, but we didn't think this was going to happen.
"He was working to set up a charity to help young people avoid going down the same road as him and me did.
"The Charlie of the 1960s was not the same was not the same man as the Charlie of recent years."
He added: "He educated himself in prison and we discussed philosophy - but his passion was mineralogy.
"He was my best friend - I loved him."