Charlie Richardson: Rival gangster of The Krays dies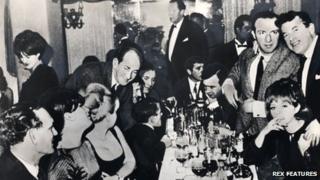 Former London gangster Charlie Richardson has died at the age of 78.
With his brother Eddie, Richardson led a criminal gang to rival the Kray twins and during the 1960s there were violent clashes between them.
In 1967, he was jailed for 25 years for fraud, extortion and assault, after a case known as the "Torture Trial".
Jurors heard how the gang would nail their opponents to floors, pull out their teeth with pliers, or cut off their fingers and toes.
Richardson's death was confirmed by friend Bobby Cummings.
'Completely innocent'
In a statement, Mr Cummings said: "It is a great sadness to inform you, as many of you may have already heard, that my dearest friend Charlie Richardson passed away this morning."
Richardson always claimed the torture stories heard at his trial were untrue.
He was found guilty of nine charges along with four others; his brother Edward Richardson, Roy Hall, Francis Fraser and Thomas Charles Clark.
In the dock at the Old Bailey he said he was "completely innocent of these charges", The Times reported.
One witness told the court that Richardson "screwed his thumbs in my eyes", the newspaper said.
"It was very painful and I could not see for some moments. On Mr Richardson's instructions, my shoes were removed and my toes were wired up to the generator."
He said after he was shocked, he was stripped down to his shirt and the shock treatment was repeated.
"As I rolled on the floor Mr Richardson said the generator wasn't working very well and orange squash was poured over my feet. Then I was bound and gagged before being given further electric shocks to various parts of my body."
He added that when he was dressing later, Richardson pinned his left foot to the floor with a knife.
During the trial, three other men were accused of trying to get at witnesses, while jury members were put under police protection.
Richardson was finally released from prison in 1984 after serving 17 years.
He later campaigned on behalf of young offenders.
'MI5 went mad'
In an interview for a History Channel documentary following his release, Richardson admitted he had tried to bug Prime Minister Harold Wilson's phone for a South African intelligence group.
He said: "MI5 went mad. I never realised what I was doing."
His rivals, the Kray brothers, created a criminal enterprise that included racketeering, hijacking, armed robbery and arson.
They were jailed for life in 1969, with a recommended sentence of 30 years, for two separate murders in London.
Ronnie died aged 61 at Wexham Park hospital, Berkshire, in 1995 after suffering a heart attack.
Reggie died from cancer at the age of 66 at the Town House Hotel in Norwich in 2000.