Firearms officer's 'statement delay' on Mark Duggan death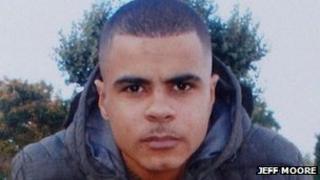 A police firearms officer who attended the police shooting of Mark Duggan was told not to make a statement for more than three months, a court has heard.
Det Con Paul Christianson told Snaresbrook Crown Court he was tasked with securing a grass area where an illegal handgun was found.
When asked why he did not provide a statement immediately, he said a supervisor told him not to.
Kevin Hutchinson-Foster, 30, denies giving Mr Duggan an illegal handgun.
He is alleged to have handed the weapon over 15 minutes before Mr Duggan was intercepted by police in Ferry Lane, Tottenham, on 4 August last year and shot dead.
His shooting sparked riots in Tottenham which spread to other parts of London and then to cities in England.
'Fired straight away'
Mr Christianson told the court he arrived shortly after Mr Duggan was shot.
The gun was found covered in a black sock about 10ft (3m) away from railings near where the 29-year-old was killed.
When asked by Stuart Denney QC, for the defence, why he had not provided a written statement until 9 November, he said a supervisor whose name he could not recall had told himself and two other colleagues at the scene not to do so until required.
PC Richard Green, whose job was to make the gun safe, has told the court that simply by looking at the gun, "there was no way of telling whether or not that weapon was in any condition to be fired straight away".
The jury was told by the prosecution on Tuesday that Mr Duggan was holding a gun when he was shot by police.
The case continues.