Dan Hunt search: Speed flyer found in Swiss Alps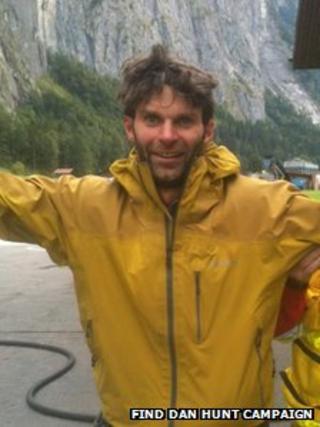 An extreme sports enthusiast from west London who was missing in the Swiss Alps has been found alive.
Dan Hunt, 33, from Shepherd's Bush, was speed flying off a mountain on Saturday afternoon when he went missing.
Speed flying involves flying a small fabric wing down a steep slope at speeds of up to 75mph.
He was found shouting for help at about 13:30 local time (12:30 BST) in a forested area. He is not believed to be injured.
Ryan Atkinson, a friend who helped in the effort to find Mr Hunt, said he had been in the canyon for 68 hours.
He said he believed Mr Hunt would have had only water and a few snacks on him.
'Community pulled together'
Nearly £14,000 was raised from a Facebook campaign to help search for him after his insurance, which initially paid for the search, ran out.
Mr Hunt, who owns an organic food shop in Turnham Green, west London, was with two friends who jumped off the Jungfraujoch at a height of 11,333ft (3,400m).
He was supposed to be four minutes behind his partner, Tim Good, but failed to arrive at the agreed landing site.
The funds paid for three extra helicopter searches.
Volunteers from Germany, France and Switzerland also helped as did internationally renowned climber Ueli Steck who searched the glacial valley.
There were also teams searching the mountainous crevasses as well as search and rescue dogs.
Paragliders flew Mr Hunt's flight path in an attempt to find him while other teams searched the forest.
"Dan is very well known and the whole community has pulled together to help find him," said Mr Atkinson.
He said Mr Hunt was an experienced speed flyer who had good equipment.
He added that as with any extreme sport there was risk involved in Mr Hunt's flight but that he had been skilled enough to do it.