'Budget cuts' force Croydon to opt out of Open House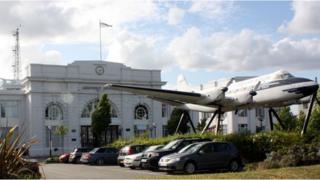 Croydon has withdrawn from London's Open House weekend in the event's 20th year because of cuts to its budget.
Open House London, which showcases architecture to the public for free, often offering privileged access, requires a fee of £4,000 from each borough to take part.
The south London authority said it was not a "priority" area of its budget.
A volunteer called it a "missed opportunity" to mitigate bad publicity following last year's riots.
'Modest contribution'
Jeni Hoskin, project manager of Open House London which takes place on Saturday and Sunday, said phone calls had been received from disappointed residents.
She said there had been "a lot of convincing" behind the scenes to try and keep Conservative Croydon "in the fold".
She said the fee each local authority pays is the main source of funding for curating and marketing the event, which this year features more than 750 buildings and events.
The event relies on 6,000 volunteers including tour guides and organisers, she said.
"Croydon is trying to put itself on the map so it's missing an opportunity," she said.
"When you look at what was happening last summer there is a great buzz around Open House London."
Croydon was a flashpoint for riots in August last year.
Buildings were looted and set on fire, including furniture shop House of Reeves.
Croydon Council spokesman John Bownas said: "It's a case of reviewing council spending and looking at budgets very closely.
"This area was seen as not being a priority."
He said only about 10 buildings in Croydon were part of the Open House programme and they were "usually open anyway".
"A few are a bit harder to access on a whim but anyone with an interest in getting into them could," he said.
He pointed out that in the government's 2010 spending review, local government funding was cut by 28% over four years.
"Every penny every council is spending is being scrutinised," said Mr Bownas.
Ms Hoskin said Croydon was the last London borough to join the Open House programme in 2004.
Buildings which previously took part included Whitgift Almshouses in North End, Shirley Windmill in Postmill Close and Airport House in Purley Way.
Airport House was one of the first purpose-built airport terminals in the world.
The chairman of Croydon Airport Society, Frank Anderson, said: "My personal reaction - not on behalf of the society - is that I would have thought it is a missed opportunity to mitigate some of the bad publicity from last year's riots."
Frank Paine who gives guided tours of Shirley Windmill, one of only four open to the public in Greater London, said the £4,000 was "peanuts".
He said: "I think it's a great shame. The publicity in particular is very important."