Owner of attacked guide dog calls for law change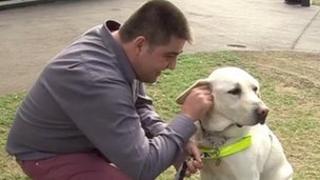 A guide dog owner whose Labrador has been attacked twice by a dog in the last year wants a change in the law to help protect dogs like his.
Such attacks are not necessarily a criminal offence and it can be difficult to bring prosecutions.
Kevin Nugent's guide dog, Orlando, was attacked between May and June in Alperton, Brent, north-west London.
London Mayor Boris Johnson was said to be "saddened and appalled" by the attacks.
'Aggravated attacks'
Mr Nugent said: "The fact that the police can't do anything about it because it's not a criminal offence for a dog to attack another dog, means that these dog owners are getting away with assault because an attack on Orlando is an assault on me.
"It affects my way of life. It means I can't do what I would normally do.
"It is frustrating that the law currently does not allow me to bring the person responsible for these attacks to justice."
UK charity Guide Dogs, said there have been 14 dog attacks on guide dogs in London since the end of May 2010.
Orlando recovered from both attacks and is working again.
Boris Johnson's deputy mayor for policing and crime, Stephen Greenhalgh, said he and the mayor had been "saddened and appalled" by the attacks.
He said he would continue to lobby the government for more stringent dangerous dog legislation.
He added: "Such attacks should be seen as aggravated and sentences should reflect this."
In August, new advice was issued for judges and magistrates aiming to encourage the courts to use harsher sentences when dealing with dangerous dog offenders.