Squatters reopen Friern Barnet library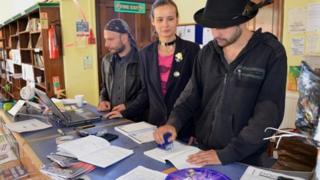 Squatters who set up a book-lending service in a library that was closed due to council budget cuts have vowed to fight moves to evict them.
A week ago a small group began living in Friern Barnet library, north London, and operating a community-run service.
Occupy London, which is is staying on site, said it received an eviction notice on Thursday morning.
Barnet Council, which closed the library in April, said it was important that public assets were protected.
'Squatter's rights'
A council statement said: "The council is genuinely enthusiastic about any group proposing ideas to run a community library in Friary House.
"However, it is important that public assets are protected and we have now started the legal process to have the squatters removed."
Squatters took up residence in the building in Friern Barnet Road and joined the campaign to reopen the library for the local community.
Pete Phoenix, of Occupy London, said the building's occupation was a direct result of changes to the law which allowed police to raid residential properties on suspicion they were being occupied by squatters and remove them.
Squatters occupying non-residential buildings can still claim "squatters' rights".
Local residents angered by the closure earlier this year have been supporting the squatters.
Mr Phoenix, who said he was acting as a facilitator, said members of the community had donated hundreds of books and were helping to run a book-lending service four days a week.
The library closure was designed to help the council save £1.4m from its libraries budget.
Alternative location
It has since been inviting proposals for groups that want to run a community library on an alternative site - Friary House.
Mr Phoenix said: "This is their local community space and they want this space, not one three quarters of a mile down the road.
"We would like to see the council continue negotiations and come up with a reasonable solution."
He said the aim of their campaign was to be able to hand the library back to the community and they would remain on site as long as necessary.
Mr Phoenix also said they would resist any legal action to remove them "all the way".
A second meeting between the council and campaigners is planned at the former library building on Monday.