Boris Johnson to chair 2012 Games legacy corporation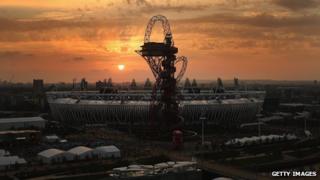 Mayor of London Boris Johnson is to take over as chairman of the London Legacy Development Corporation.
Mr Johnson replaces Daniel Moylan, who had been appointed to the role in May.
"Securing the future of the Olympic and Paralympic legacy and building on the regeneration of east London is a matter of huge importance to me personally," said Mr Johnson.
Mr Moylan will instead take charge of a new aviation policy unit to try to attract more investment in the city.
Mr Johnson said: "I've asked Daniel to take on one of the most important challenges of my second term.
"London is the heartbeat of the UK's economy. We must remain competitive and to do that we need a coherent aviation strategy for 21st century London. Daniel will help me deliver that."
Mr Moylan said: "I have had the privilege of chairing the Legacy Corporation for the last three months. I give up the post with a heavy heart but knowing that, alongside aviation, the mayor intends to make this one of the great priorities of his second term and is demonstrating this by taking the chairmanship himself."
The Legacy Corporation is in charge of the long-term development, management and maintenance of the Olympic Park and its facilities now that the Games have finished.
They aim to turn the site, to be known as the Queen Elizabeth Olympic Park, into a multi-use area for business, residents and visitors.
There will be phased re-opening of the park with the north area the first to throw open its doors on 27 July 2013 - exactly one year after the start of the Olympics.
This will include the renamed Copper Box, which will be known as the Multi-use Arena and will host a variety of sports and also be used for non-sporting events such as concerts, shows or corporate dinners.
The Lee Valley Velopark opens in late 2013 or early 2014, with the south park opening that spring.
Members of London's Labour and Green Parties have hit out at the news of Mr Moylan's departure from the role.
London Assembly Labour member John Biggs said: "Mr Moylan standing down is deeply disappointing, the last three months under his tenure have essentially been wasted."
London Assembly Green Party member Darren Johnson said: "I am worried that the Olympic Park legacy will become a bog standard mix of concrete and tarmac unless the mayor immediately appoints some senior people who have real experience of delivering imaginative regeneration projects."