Man seeks strangers on London Underground for orchestra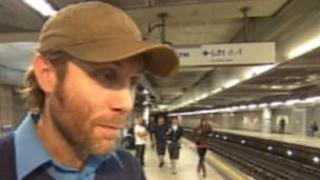 A London musician is creating an orchestra made up entirely of strangers he has met on the London Underground.
Shaun Buswell, 35, hopes to recruit enough musicians to perform a concert to raise money for charity.
He said he had recruited about 30. The orchestra can be up to 100 musicians.
Once he has his orchestra the concert will be take place on 12 December 2012, hence the name the 12.12.12 Underground Orchestra Challenge.
There are self-imposed rules that Shaun must follow when recruiting musicians. He must not know them personally, they must be carrying their instrument when they meet, and they must meet inside the Tube network.
Pierluigi Cioci plays the violin. He said he was apprehensive when he was approached at Leicester Square.
"It was a little bit strange because a guy who comes to talk to you in a Tube station is always asking for something, so I thought he was looking for money or something like that," he said.
"But then he told me about the project. I'm really enjoying it because the music is very nice, it's very original."
Chikako Matsumoto, who is originally from Japan, plays flute and double bass. She found out about the challenge via Twitter and was keen to join the orchestra.
'Create a balance'
"Initially Shaun said that I wouldn't be eligible because I got in contact with him and it has to be a stranger," she said. But she was so passionate about the project that he asked her to join his band Buswell instead.
Mr Buswell, orginally from Swindon, said the best stations for recruitment are Westminster and Baker Street.
"I've met nearly 300 musicians so far," he added.
"I've met enough violinists to form two symphony orchestras but I haven't signed up that many violinists. In general I think we've signed up maybe 30 musicians so I think we have hit our quota, but we need to find others to create a balance."
The money raised will go to charities including Kick4Life, Music Alive and in Harmony, Sistema England.
Some of the recruits on board so far will join him and his band at a warm-up gig to raise awareness of the challenge at the Union Chapel in Islington on Friday.