Olympic officials' household items set for charity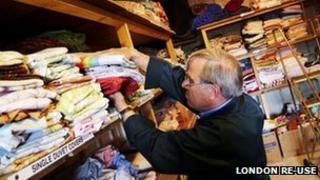 More than 7,000 household items used during the Olympics and Paralympics by officials and journalists are to be donated for use by homeless people and those in need.
Eighty tonnes of items including bedding, crockery and kitchen utensils will be collected from 13 university halls of residence in London.
Recipients will include east London community centres, prison leavers and youngsters leaving hostels.
Various charities are set to benefit.
'Huge challenge'
The student lodgings from Whitechapel in east London to Tottenham in north London are being cleared so they are ready for the start of the new term.
Charity London Re-Use, which collects unwanted furniture and sells it to welfare groups at low cost, will co-ordinate the initiative.
It said that a contract between accommodation manager Unite and Locog meant flats usually used by students had to be equipped with brand new household items for the Games.
Unite operations manager Alan Blackmore said: "We had no intention of letting such a huge number of almost-new homewares be thrown out."
But he added that with 8,000 students arriving to use the company's accommodation soon, it had provided a "huge challenge".
Among those receiving the goods will be a bingo club, a Bengali women's group, a dance club and cubs, scouts and beavers.
Charities include Cancer Research UK, Barnardo's and the Salvation Army.
Items will be taken to Mitcham in south London from where charities will pick them up.