Drivers get 6,900 penalties over 2012 Games road network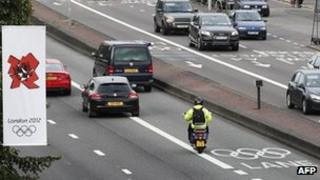 Drivers in London were issued with 6,900 penalties for breaking Games traffic regulations, Transport for London (TfL) has confirmed.
People were fined £130 for taking banned left or right turns and parking on the routes reserved for athletes, officials and the media.
But motorists were not fined for driving in the lanes - 30,400 warnings were issued instead.
TfL said 97% of drivers kept out of the exclusive lanes.
During the Olympics, the restrictions applied on 30 miles of lanes in London.
That was reduced to 8.7 miles during the Paralympic Games.
'No unnecessary fines'
The restrictions on the Olympic Route Network (ORN) - which included the Games Lanes - came into effect on 25 July and was suspended after 12 August.
The Paralympics Route Network (PRN) was in place between 29 August and 9 September.
In total, 6,500 penalty charge notices (PCNs) were issued for the ORN and 400 for the PRN. About 25,700 warning notices were issued to people for driving on the ORN and 4,700 for the PRN.
About 24,000 drivers who parked on the special lanes moved their vehicles when asked to by wardens monitoring the lanes, but 230 other vehicles had to be towed away, TfL said.
Leon Daniels, TfL's managing director of surface transport, said: "Games Lanes operated flexibly and throughout the Olympic Games only around 40% were in operation at any one time. During the Paralympic Games that was reduced to around 30%.
"We had no interest in unnecessarily fining people and with a compliance rate of around 97% we had no need to issue any fines."