Severed head found in Regent's Canal in Hackney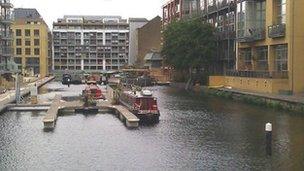 A severed human head has been found in Regent's Canal in east London, the Metropolitan Police has said.
The head was found near Kingsland Road, Hackney, by a member of the public at about 13:15 BST on Sunday. It is yet to be identified by police.
In March, the decapitated torso of ex-EastEnders actress Gemma McCluskie was found less than a mile from where the head has been discovered.
The limbless body of Miss McCluskie, 29, was found near Broadway Market.
A post-mortem examination on the severed head was scheduled to take place on Tuesday, although formal identification is not expected until later in the week.
On Monday afternoon, police divers were seen looking for clues in Kingsland Basin, where police confirmed the head was found.
The basin comprises luxury flats and houseboats and is connected to the Regent's Canal.
A police spokesman said: "We can confirm that a head was recovered from Regent's Canal yesterday afternoon. It is still yet to be identified."
Miss McCluskie, of Pelter Street, Hackney, played Kerry Skinner in the BBC soap in 2001.
Her brother Tony McCluskie, 35, will stand trial in November charged with her murder.
Leo Nolan, who lives near Kingsland Basin, said: "The police were up here all the time looking for it."
Related Internet Links
The BBC is not responsible for the content of external sites.