Thames Festival: 'Fantastic finale' draws thousands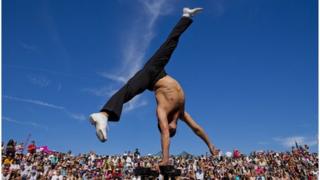 Hundreds of thousands of people have turned out for the largest free event in London, the Thames Festival.
Now in its 16th year, the event celebrates the river and involves music, dance and other activities from Westminster Bridge to Tower Bridge.
Ending with a carnival and fireworks display over the river, it is London's cultural finale for the summer.
Festival director Adrian Evans said: "We are the London party to close the whole Olympic season."
Supported by the Mayor of London and Arts Council England, the festival is delivered by the Thames Festival Trust, a not-for-profit charitable trust.
It estimated that about 800,000 people had attended the event over the weekend.
"It's been an amazing summer, a summer like no other, and the Thames Festival brings all those celebrations to a fantastic finale," said Mr Evans.
"The Thames is the reason why London is here in the first place and a lot of people walk beside it, they walk over it, but they don't really appreciate anything about it itself.
"It's the barometer for climate change - it's really the most significant bit of natural environment in central London today. It's really important that everyone really appreciates our river more."