London 2012: Greek Goddess statue marks end to Games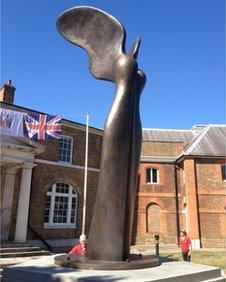 A statue of the Greek Goddess of Victory has been unveiled as London 2012 draws to a close.
The four metre (13ft) high statue of Nike was presented to London by the Ancient City of Olympia to mark the Greek origins of the Games.
Created by sculptor Angelos Kougioumtzis, it was revealed at the Royal Arsenal Riverside in Woolwich.
A statue has been presented to host cities since 1996, when the centenary of the modern Olympic era was marked.
This ensures that the ancient Greek origins of the Games - which are marked at the start of each Olympiad with the lighting of the flame by the rays of the sun in Olympia - will take centre stage at the closing of them.
The statue was unveiled on Sunday by Chris Roberts, the leader of the Royal Borough of Greenwich, and Mr Kougioumtzis.
Members of The King's Troop Royal Horse Artillery formed a mounted guard at the ceremony, which was marked with a fanfare by a bugler from the Princess of Wales's Royal Regiment.
Both regiments are stationed at nearby Woolwich Barracks, which has served as the venue for the shooting events in the Olympic and Paralympic Games, and the Paralympic archery events.
Mr Roberts said: "Royal Greenwich is proud and honoured to receive this sculpture, on behalf of London, from the ancient city of Olympia."
He added: "The arrival of Nike in the Royal Arsenal is an important contribution to the cultural legacy of these Games.
"Her siting here is a fitting encounter between the old and the new, with this ancient Goddess now taking her place in a site that represents the kind of regenerated modern urban community that London's civic leaders are keen to build."
Related Internet Links
The BBC is not responsible for the content of external sites.