Bernie Ecclestone: Man jailed for blackmail bid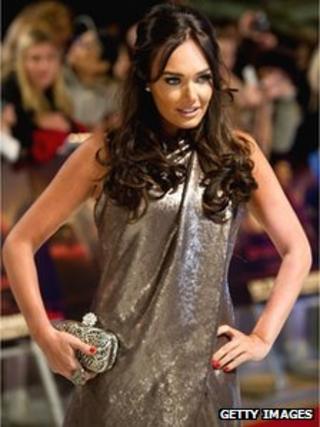 A man who attempted to blackmail F1 boss Bernie Ecclestone has been jailed for five years.
Martin Peckham, who admitted blackmail, demanded up to £200,000 from Mr Ecclestone last year, claiming his daughter Tamara would be abducted.
He told Mr Ecclestone he was a security expert who could foil a Middle Eastern plot to kidnap the 27-year-old.
Peckham, 41, of Colchester, planned to use the money to fund his own wedding, Southwark Crown Court heard.
Ms Ecclestone, who is the oldest daughter of the F1 boss, appeared in the television show Billion Dollar Girl.
Following the sentence she said in a statement that she was left "traumatised" and became "paranoid" and "scared to go out".
'Hopeless and hapless'
The court heard dental technician Peckham, of Silverthorne Close, hit upon the idea after reading about a similar plot to blackmail the billionaire in a tabloid newspaper in June last year.
Prosecutor Peter Zinner said: "The plot was rather simple and amateurish but nevertheless menacing enough to rack up fear in the Ecclestone family and cause an immediate and devastating effect upon Mr Peckham's victims.
"The defendant, who is something of a fantasist, adopted the identity of one Marcus Black, pretending to be a security specialist who knew of a Middle Eastern plot to kidnap Tamara Ecclestone, and asked for £200,000 to provide information about it."
Initially Peckham's attempt to contact the billionaire was scuppered by his staff but he managed to get in touch when the claims became "menacing".
Posing as 'Mr Black' he repeatedly called Mr Ecclestone and Ms Ecclestone's then boyfriend, Omar Khyami, claiming to update them about the abduction plot and offered to deliver the plotters "dead or alive".
Security 'doubled'
The F1 boss took the claims seriously and advised his family members to "beef up" their security. He also asked for a face-to-face meeting to handover the money but the blackmailer insisted on a "drop and pick-up".
Police began their investigation in July and arrested Peckham within days after his calls were traced because he failed to hide his telephone number.
A piece of paper with Mr Khyami's name and number found on Peckham and written scripts of the phone calls to Mr Ecclestone found in a laptop helped link him to the crime.
The court heard the father-of-two could not afford to pay for a new wedding venue his fiancee had booked, although she was unaware of this.
Peckham had lost about £8,500 on a deposit for another wedding venue and also wanted to buy the house which he shared with his fiancee.
His lawyer Satyanand Beharrylal said: "The actions of Mr Peckham were hopeless and hapless compared to seasoned criminals."
Ms Ecclestone said: "I do not feel safe when I go out or even in my own home. I have to have my security around me 24 hours a day and I have doubled their capacity.
"I generally feel down and have cancelled some of my work commitments."
Mr Ecclestone said: "At the time it sounded very serious but I was pleased to know it was actually an amateur trying to extract money."
Sentencing Peckham, Judge Alistair McCreath said: "Having piggy-backed on to an existing threat these were people already in fear.
"You compounded that fear and caused to the whole family very real substantial fear both during the time that you carried out this offence and thereafter.
"Whether this threat was ever one that could be carried out, that is by-the-by because they believed it to be true and were very, very frightened."