Burst main floods North Circular Road at Brent Cross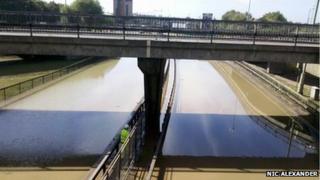 Flooding from a burst water main has closed a section of one of London's busiest commuter routes and left at least 1,300 homes without water.
Earlier several feet of water settled on the North Circular Road at the Brent Cross flyover, causing it to be closed in both directions from 08:00 BST.
The majority of Thames Water's 16,000 affected customers should have water.
The eastbound carriageway has been reopened and it is hoped one lane westbound will be opened on Thursday.
Thames Water said the broken 24in pipe had caused extensive damage to the westbound carriageway and would take a few days to repair completely.
A spokesperson said: "The vast majority of customers who were without water this morning should now have their supplies restored and we are working to ensure those remaining - about 100 properties which are either high-up or at the end of the network - back on as soon as possible.
"We're really sorry for the disruption this is causing. We're doing everything we can to get things back to normal as soon as possible."
'Deep water'
Earlier, there were extensive queues in both directions and congestion on surrounding routes.
Eyewitness Darren Zwiers, from Golders Green, north London, was one of many people who were late for work as a result of the flood.
Mr Zwiers said: "I was driving from Heathrow Airport to work this morning, but just before the North Circular Brent Cross flyover, there was standstill traffic.
"I emailed my boss to tell him I was stuck in traffic and would be a few minutes late.
"He replied saying I would be more than a few minutes late and filled me in on exactly what had happened.
"I was shocked to see the road underneath covered in deep water.
"There was so much water that it started rising up the interchange."
A Transport for London spokesman said: "Our teams have put a diversion in place.
"Drivers should seek alternative routes or allow extra time for their journey.
"We are working with Thames Water and they assure us they are working to repair the water main as quickly as possible."