'Frightening' London school place shortfall predicted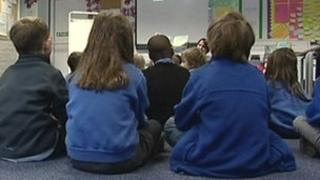 The body that represents London's 32 councils has warned the cost of meeting a primary and secondary school places shortfall will reach £2.3bn by 2015.
London Councils said the shortfall is likely to rise faster than previously thought to about 90,000 by 2015.
Stephen Reed from London Councils said: "A 90,000 shortfall of places by 2015 is really quite frightening."
A Department for Education spokesperson said it was "creating thousands more places".
'Storing up problems'
London Councils said 800 children still had no primary school place by the end of July, but it did not to have a more recent figure.
"We've been telling the government the need to give London the funding that's needed to provide the primary school places the parents want to see," Mr Reed said. "The government's not doing that."
"If you fail to invest in a child's education, you're storing up massive social problems for the future as well as destroying that child's life."
The Department for Education said: "We know that London has pressures, which is why we're creating thousands more places to deal with the impact of soaring birth rates on primary schools.
"We've already invested just over £1bn in London this year and last to create extra school places and hundreds of millions of pounds will follow."