Climate protesters bailed over Tower Bridge stunt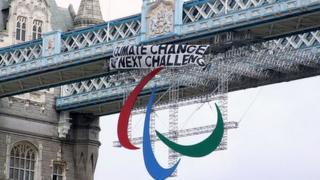 Three people arrested after an environmental group dropped a banner over the Paralympic Games logo on Tower Bridge have been released on bail.
The bridge in south-east London was closed for over an hour on Saturday after the stunt by climate group Climate Siren.
City of London Police said a man and a woman were arrested on suspicion of causing criminal damage and a public nuisance.
A man was arrested for assisting them.
The sign read Climate change, our next challenge and was placed over the Agitos at 14:00 BST.