Simon Hughes calls for end to empty London second homes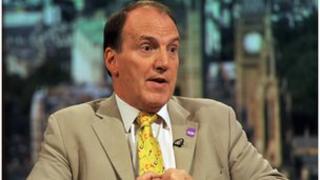 New powers should allow the mayor of London to restrict second homes being purchased by foreign investors, former mayoral candidate Simon Hughes said.
The Liberal Democrat deputy leader said some areas should be "off limits" to stop Londoners being priced out.
The Smith Institute reports that in the first half of 2011, 60% of newly built property in central London was bought by overseas investors.
The think tank said most foreign buyers were from the Far East.
'Critical issue'
Speaking to BBC London 94.9 Mr Hughes, MP for Bermondsey and Old Southwark, said: "There's no reason why we should allow people to invest in the homes that we need, not use them and force the prices up.
"The Smith Institute shows foreign investment now makes up two thirds of buyers in the prime London market."
The think tank's July report, 'London for sale?' reads: "Although not the only challenge facing the private housing market in London, the level and nature of overseas investment is a critical issue for policymakers to get to grips with.
"The surge in overseas investment in London homes will exacerbate the fall in home ownership, which is already down to 53.5% as opposed to 66% for England."
Mr Hughes said that other countries including Switzerland and China had successfully introduced requirements whereby permission has to be granted before somebody "outside of the country" can buy.
London is the top city in the world for foreign investment, according to accounting firm KPMG.
Research by property advisory firm Jones Lang LaSalle names London's as the most traded real estate market in the world since 2008.
The proposal is one of a series of housing policies to be put forward at the Liberal Democrats' conference in Brighton next month.