Julie Sheriff Afro comb murder: Girl detained for 10 years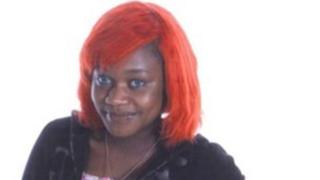 A 16-year-old girl has been detained for a minimum of 10 years after she was found guilty of murdering a teenager with an Afro comb.
Rebecca Douglas spiked Julie Sheriff in the head with the comb's metal handle in a row in May 2011.
Julie, originally of Sierra Leone, died on 21 September from a brain injury inflicted in the attack in Battersea.
The 16-year-old, from Hackney, east London, was in a coma for almost five months before she died.
Douglas, who can now be named, was sentenced at the Old Bailey.
'Lethal weapon'
At her trial in July, the court heard how the teenager had pulled the comb from her handbag and struck Julie, with the tip of the comb penetrating deep into her brain.
A replica of the black comb with a spiked metal handle had been shown to the jury.
A witness saw the defendant strike Julie's collarbone without much effect and then plunge the comb into her skull.
After Douglas was arrested, she was found to have left a BlackBerry message saying: "I see some girl that I hate, like I actually hate her with a passion, and I kind of stabbed her."
Judge Nicholas Cooke warned parents to be aware of the dangers of young girls wearing such combs as "fashion accessories".
"We heard evidence that a pintail comb can be used as a lethal weapon," he said.
"We heard it can be worn in the hair as a fashion accessory.
"It can be as effective a killing instrument as a stiletto knife. It is not a very nice thing to have in your hair."
Judge Cooke said Douglas, who had been sleeping rough at friends' houses, killed Julie with "hate-filled fury" after the girls argued about mobile phone messages in the street.
'Savage and senseless'
"Your victim died a long, lingering death some months after you attacked her," the judge told Douglas.
"You took possession of the pintail comb and struck out in fury."
Jonathan Kinnear QC, defending Douglas, said she had had a traumatic and violent childhood but had not meant to kill Julie.
The victim's family moved from Sierra Leone to Britain in 2006 from West Africa where her father, Raouf, was a policeman.
"I am left to wonder why I brought her here and if I hadn't, she would still be alive," he told the court, in a statement.
"The result of seeing my beautiful, bubbly, brilliant daughter bedridden and in a vegetative state, has left me extremely depressed.
"The attack on my daughter was wicked, savage and senseless."