Pepe Belmonte cycle crash: PC David Lynch found guilty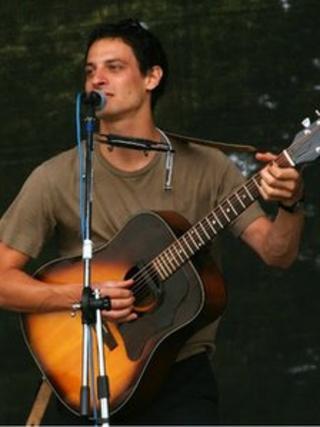 A police officer has been found guilty of dangerously driving a police van which hit a promising musician who was cycling in east London.
PC David Lynch's van struck Joseph Belmonte, who performs as Pepe Belmonte, in Hackney on 31 March 2011.
Mr Belmonte was left with serious spinal injuries and brain damage, Southwark Crown Court was told.
Lynch, of Bedfordshire, who drove at speeds of up to 68mph in a 30mph zone, is due to be sentenced on 8 October.
The British Transport Police (BTP) officer, from Stotfold, admitted careless driving but denied dangerous driving.
Judge Jeffrey Pegden said the accident had ruined the career of the music artist, who was still in constant pain.
Mr Belmonte had major surgery to correct three breaks to his spine, and has a brain injury which leaves him "fumbling for words" and unable to remember lyrics to his own songs, the court heard.
Speaking after the jury delivered its verdict, the musician's mother Patsy Belmonte, from Weybridge, Surrey, said: "Pepe was just a week away from launching his first album when he was hit.
Van 'took off'
"He has since spent 15 months recovering. It has had a huge impact on every area of his life, including his career and his independence.
"Physically, he will never be the same."
Prosecutor Sam Brown told the court that Mr Belmonte had to learn both how to walk again and how to play the guitar.
A statement he read out on behalf of Mr Belmonte said: "I can't really explain the effect it has had on my life. I am very depressed at the reality that I will never be the same person again.
"I miss my life as it was before."
The officer had been on his way to an incident in the Old Street area with sirens on and lights flashing at the time of the crash, jurors heard.
Eyewitnesses described seeing his van "taking off" after hitting a humpback bridge, with all four of its wheels leaving the ground before it hit the cyclist.
Talented young musician
Mr Belmonte was thrown on to the bonnet of the van before hitting a tree.
Following the verdict, Mr Belmonte's lawyer Christine Tallon said of her client: "He was on the brink of making his musical breakthrough with his debut album at the time of the incident.
"He remains a talented young musician and is fighting hard to get his career and his life back on track."
A BTP spokesman said: "This dreadful incident caused serious injury and our thoughts and sympathies remain with Mr Belmonte, who is still recovering."
Independent Police Complaints Commission (IPCC) commissioner Sarah Green said: "A jury has found that his driving was dangerous and fell well below the standards expected of him."