Tia Sharp: Search failings 'not down to any one officer'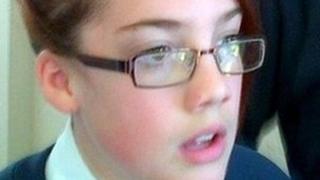 The failure to find Tia Sharp's body more quickly was not down to any one individual officer, the Metropolitan Police Commissioner has said.
Officers searched the home of Tia's grandmother in New Addington, south London, four times before her body was finally found in the loft on 10 August.
It is understood the body was wrapped in bin bags when it was found.
The force has apologised to 12-year-old Tia's mother Natalie Sharp for the delay.
Bernard Hogan-Howe said: "If we thought it was an individual human error then that would explain it, but we're carrying out a review because we're not happy that explains it.
"We're trying not to have a knee-jerk reaction, we need some time to understand what happened and what failed to happen.
'Human error'
"We want to learn lessons from this particular case. We have apologised and I repeat that apology today to Tia's mum and family for not having found Tia's body sooner."
An internal review is being carried out and Mr Hogan-Howe said he hopes to have some answers within "a few weeks" about what happened.
He said: "We've explained that it was human error but we want to go into it more. You can always blame the individual but we want to understand what processes and management decisions we've made that led to that failure.
"That's why we're carrying out a review and we hope in a few weeks' time we will have some conclusions from that, so that we make sure it doesn't happen again."
Tia's grandmother's partner Stuart Hazell, 37, from New Addington, has been charged with her murder and is due to appear at the Old Bailey for a plea and case management hearing on 19 November.