Riot-hit Croydon store boss gets Olympic ceremony invite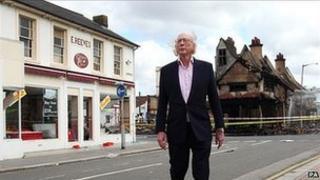 The owner of a family-run south London furniture store that was burned down in last summer's riots has been invited to the Olympics Games closing ceremony.
Maurice Reeves, 81, owner of House of Reeves Furniture, in Croydon, received the invitation from Deputy Prime Minister Nick Clegg.
Mr Clegg was given 18 closing ceremony tickets by London 2012 organisers.
The Liberal Democrat leader said he had offered 12 of the tickets to "inspirational" people he has met.
The leaders of the other main parties have not yet responded to the BBC to say how many tickets they have been offered by Locog or what they plan to do with them.
Four of Mr Clegg's six remaining tickets have been offered to partners of the 12 people he has selected.
A spokesman for Mr Clegg said the deputy prime minister would keep the final two for himself and one other person.
Images of the 140-year-old House of Reeves engulfed by a massive blaze just over a year ago were among the most replayed in coverage of the England riots.
Mr Reeves recently worked with a youth volunteering charity to deck the shop with 4,000 pictures of young people holding up positive messages.
Alongside Mr Reeves will be another victim of the disorder, Basak Kartal, who had to barricade herself inside her Turkish cafe and bookshop as the riots in Tottenham raged around her.
Mr Clegg said: "Our unprecedented medal haul adds a new buzz to the excitement and anticipation around Sunday's closing ceremony.
"It is a privilege to be able to celebrate the incredible achievements of our sporting heroes with just a few of the inspirational people I have met over the past year, who have made such a significant contribution to their communities."