Trevor Ellis riot murder: Reward offered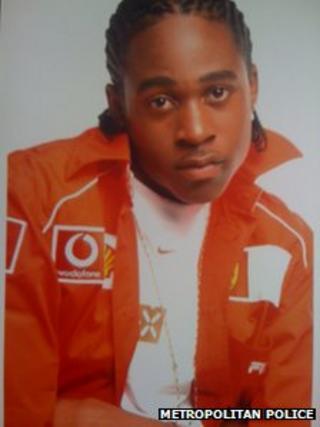 Detectives investigating the fatal shooting of a man during last summer's riots in south London have offered a £20,000 reward for information.
Trevor Ellis, 26, of Brixton Hill, was found in a car in Duppas Hill Road, Croydon, on 8 August 2011 with a bullet wound to the head.
Police believe his killers were involved in looting and at least two robberies that night.
A year on, no-one has been charged over the shooting of the father of four.
'Unprecedented violence'
The Metropolitan Police believe that just before he was murdered, Mr Ellis and some friends were involved in an altercation with another group which resulted in a car chase.
Det Ch Insp Chris Le Pere said the looters on that "unprecedented" night of violence "thought nothing of arming themselves with a gun and ultimately taking a young man's life, leaving four young children without a father".
He added: "I want anyone who was in central Croydon that night who saw this group or may have images of them on their cameras or phones to come forward."
Mr Ellis was found close to the junction of Warrington Road.
He was pronounced dead at St George's Hospital the following day.
The Met said the reward would be given for information that leads to the identification, arrest and prosecution of the people responsible for the murder.
Detectives specifically appealed for anyone who witnessed the car chase, which involved a dark estate car and a silver hatchback - believed to contain the group of nine - and a dark hatchback in which Mr Ellis was a passenger.
A number of people have been been arrested in connection with the murder.
Four men were released without further action while 10 are on bail as police continue investigations.