London councils still waiting for mayor's riot payouts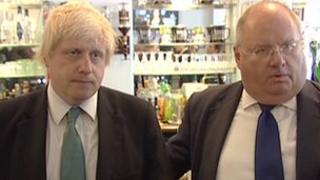 As the dust settled on London's riot torn streets last summer the politicians were out pounding them and making promises.
One such promise came as Mayor Boris Johnson and the Communities Secretary Eric Pickles visited Tottenham, not just to see the damage for themselves, but to offer up money to rebuild those areas of London that had suffered.
Between them they promised £70m from the Mayor's Regeneration Fund - £20m from the government to help Tottenham and Croydon and £50m from the mayor to go to councils affected by the riots.
A year on, BBC London asked the mayor how much money had gone from City Hall to the councils to help the rebuilding work.
His answer could not have been clearer.
"All of it," he said.
When it was pointed out that we had spoken to all the councils who were in line for money and all had said they had not received any money yet - although they were bidding to fund projects - he continued: "That's not my information at all.
"My information is that the funds that we've made available, virtually all of it has gone, or certainly gone out the door.
"All I can tell you is that the bulk of the £70m has been spent, or indeed all of the £70m has been spent. As far as I know we've pushed the money out of the door. My information is that projects are now moving."
That is not the case, however.
City Hall later confirmed that no money had yet been passed to the councils, but went on to clarify exactly what had been going on with the Mayor's Regeneration Fund.
In fact £17m has reached phase one of the process, a kind of outline permission, in which councils may be asked to come back with more detail about exactly how they want to spend the money.
The remaining £53m is at phase two, which means it has been approved and allocated to specific projects in the relevant council areas.
It will, in short, be spent on regeneration projects in the affected areas, with the first money expected to go out from City Hall this autumn.
In Southwark, which saw parts of Peckham hit by the rioters, there are plans to redevelop Peckham Rye station.
Money from the mayor's fund will be matched by the local authority. It was something the council had planned to do further down the line, but the mayor's fund has given it the chance to do it sooner.
It has not had any hard cash yet though.
Council leader, Labour councillor Peter John said: "We're working with the mayor to deliver things.
"I think it would have been good if the mayor could have delivered projects which really delivered immediately in the aftermath of the riots rather than two or three years on and I don't think we really saw that across London.
"There was nothing the mayor did that was branded in a sort of mayor's way and I think that's disappointing."
However, he will still welcome the money when it comes through as will his Conservative counterpart in Croydon, councillor Mike Fisher.
Croydon also has plans to regenerate local areas and help boost businesses.
Mr Fisher said: "What we're getting is regional money from the mayor Boris Johnson to put into Croydon but it's about local knowledge and making sure that local people, local business, local groups are involved in how that money is spent."