Olympic fan Conrad Readman dies after collapsing at velodrome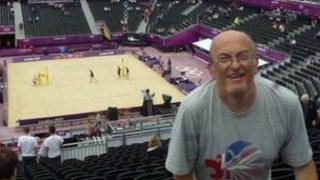 A man who went to events on every day of the Olympics has died of a heart problem after collapsing at the velodrome.
Conrad Readman, 49, a chartered accountant from Colchester in Essex, died on Friday of a "massive heart attack", his mother Joan Readman said.
She said the sport fan was a man who enjoyed life and died doing what he wanted.
Mrs Readman added that she did not know what to do with his remaining tickets.
Mr Readman had booked two weeks off work, and attended the opening ceremony, plus events including beach volleyball, hockey, rowing, archery, football, canoeing, weight-lifting, badminton and swimming.
He had bought his tickets from official sellers to other EU countries, said Mrs Readman with whom he lived.
She said: "He had tickets for every event. I was doing nothing but signing for packets and getting calls from Germany and France."
Mrs Readman said he had not been aware of any heart condition and "apart from a touch of flu" had never had any health problems.
He visited the velodrome on Friday to watch Victoria Pendleton and the men's team pursuit.
But he was discovered ill in the venue toilets at 18:15 BST. He was taken to hospital where he died.
During his Olympic adventure he was pictured with singer Desiree and BBC presenter Sian Williams.
The day before his death, he spoke of his enjoyment of the Games on Twitter.
He wrote: "Love the snap of Wills n Kate celebrating GB gold win - the joy the whole nation feels."
Tributes to son
Mrs Readman, a widow, explained that as soon as tickets had become available, her son and a group of about 10 others had arranged via the internet to buy tickets from foreign vendors.
She said she did not ask how much money he spent because "it was his business".
"I've got all these tickets for the rest of the week and the closing ceremony. I don't know what to do with them all," Mrs Readman added.
She said her son was a Tottenham Hotspur and England football fan and enjoyed travelling abroad to watch matches, as well as often attending live music events.
Mrs Readman added many people had made contact with her wishing to pay tribute to her son.