Mark Duggan shooting: Service marks riots death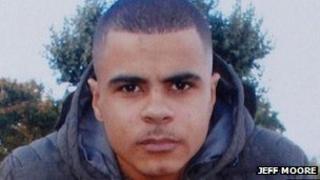 A service has taken place marking the death of a man whose shooting by police sparked last summer's riots.
A year and a day after the death of Mark Duggan in Tottenham, north London, members of his family will attend what they are calling a "service of hope".
The event at Tottenham Town Hall comes after Mr Duggan's mother, Pam Duggan, made a fresh plea for justice.
Mr Duggan, 29, was shot when his taxi was stopped by armed Met Police officers investigating gun crime.
Rioting and looting broke out in Tottenham in the days after Mr Duggan's death and spread across London and then to a number of towns and cities in England.
Mrs Duggan, whose son was shot in the torso, said: "The past 12 months have been terrible.
"We still have no answers about why my son died. Thirty-one police officers surrounded Mark and he was shot twice. Why?
"Why have none of the police officers given statements, one year on?
"One of the last things my partner, Mark's dad, said before he died a few weeks ago was that he wanted justice for his son.
"We still don't have justice. I won't give up until I get justice for Mark."
The police watchdog the Independent Police Complaints Commission (IPCC) is compiling a report that will be passed to a coroner in the autumn.
An inquest into the death of Mr Duggan, a father-of-four, will take place in January but there is a possibility that some evidence about police operations will need to be heard in secret, which would mean that a special type of public inquiry would need to be held instead.
The police have said they believe Mr Duggan was involved in drug dealing and that he was armed at the time of the shooting.
An internal police investigation has shown that a bullet lodged in a policeman's radio was not fired by Mr Duggan.
The firearms officers involved have so far refused to be interviewed by investigators.