Officer's pit bull attack happened on private land, judge rules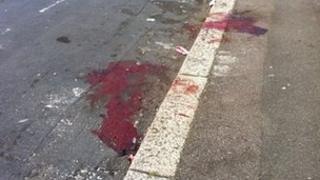 The owner of a pit bull that attacked and injured five policemen has been acquitted of one of the charges against him.
Symieon Robinson-Pierre, 25, was cleared of a charge of owning a dog dangerously out of control in a public place.
Judge Mark Bishop ruled the attack on PC Marc Merritt happened in the owner's garden, which is private property.
Mr Robinson-Pierre denies three offences under the Dangerous Dogs Act.
PC Merritt was one of a group of officers who were raiding Mr Robinson-Pierre's house in Albert Square, Newham, on March 22.
'Not public area'
Inner London Crown Court previously heard the police officers fled screaming after the dog attacked them during the raid - while locals stood and filmed the scene on their mobile phones.
The dog was shot four times by an armed police officer after five officers attempted to subdue it without success.
Judge Bishop, after hearing legal argument, told the jury the evidence showed the attack on PC Merritt took place in the garden of the house and ordered them to acquit Mr Robinson-Pierre of the charge.
"Following a submission of law I have ruled that the garden area behind the wall is not a public area," he said.
"Therefore, given the evidence about where Pc Merritt was attacked, count one must be withdrawn from you."
Mr Robinson-Pierre still faces three identical charges relating to three other officers, PCs Paul Garrard, Lee Bush and Steve Bones, while an attack by the animal on a fifth policeman, PC Martin Corderoy, took place in the garden and was not the subject of a charge.
Mr Robinson-Pierre did not give evidence in his own defence.
His barrister, Craig Harris, admitted the policemen had been injured by the pitbull in a public place, but asked the jury to consider whether the dog was "dangerously out of control" when it bit them or focusing "targeted aggression" against men who forced entry to the house and then hit it with batons.
He pointed out that the dog had not attacked anyone else in the street outside apart from the policemen.
The trial continues.