Olympic Games: London Pleasure Gardens trader 'cheated'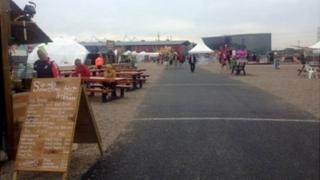 A trader on an arts site near the ExCel Olympics venue says he feels "cheated" that he has not received the footfall he says he was promised.
Matthew Lasebiken, who operates two Noodlebox units at London Pleasure Gardens, said he was told to expect 35,000 people on the site per day.
But the site has attracted fewer than 7,000 visitors per day, he said.
London Pleasure Garden (LPG), a 20-acre site on Pontoon Dock, has been approached but is yet to comment.
LPG is one of two exits Olympic spectators are directed through after watching events including boxing, table tennis, weightlifting, and wrestling at the ExCel centre.
Refund 'expected'
A document sent out by LPG to traders said there would be a funfair on site, but Mr Lasebiken, who operates two coffee and noodle stores, said: "The funfair's never been here and last night, the bar shut down for the duration."
"I'm angry and feel cheated," the trader from Cardiff said.
"There was an agreement that we should expect 35,000 people going past per day from the ExCel to the Pontoon Dock.
"On Saturday, 4,800 people came past, then 5,000 on Monday and 6,000 on both Monday and Tuesday.
"We were charged £7,000 to set up here or they will take 25% of the takings - whichever is greater over the 16 days we're here."
He said he expected a refund as the "footfall isn't here and the amenities are not here".
LPG set up earlier during the summer "to bring a 21st Century version of London's historic Pleasure Gardens back to The Royal Victoria Docks", according to its website.