Arrests over Olympic Park cycle ride rises to 182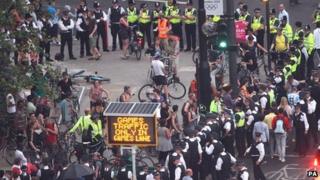 The number of people held after a cycle ride near the Olympic Park has risen to 182, the Met Police has said.
Scuffles broke out between police and cyclists in the monthly Critical Mass ride on Friday night, the day of the Olympics opening ceremony.
Police said those arrested were held over breaching section 12 of the Public Order Act and cyclists ignored warnings about Games Lanes restrictions.
Cyclists claim they were "kettled", but the Met did not respond to the claims.
Three people among the 182 have been charged with various offences, details of which will be released later, police said.
The rest have been released on bail.
The Critical Mass ride is a pro-cycling event which takes place in London every month.
The Met said 500 people took part in the ride which began at Waterloo on Friday evening and officers had informed them about road restrictions.
Two groups had been detained - the first on Bow Flyover and the other in Warton Road, Stratford.
But cyclists said the restrictions were not explained to them clearly and they were "kettled" for hours close to the Olympic Park in Stratford.
Some of the people also criticised the police for what they said were "heavy-handed" behaviour.