Confusion at 'unticketed' Olympic archery event in Lords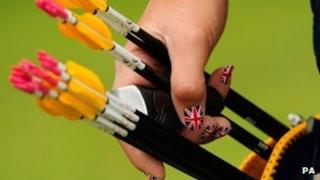 Confusion reigned at a preliminary Olympic archery event after some of the public wrongly took the word "unticketed" to mean free to watch.
Organisers of the event at Lords cricket ground had meant it was closed to the public.
But many people thought it meant free to watch with no tickets required. There were angry scenes at the ground when the truth dawned.
Olympic organisers said they had always been clear it was not for spectators.
Some foreign ticket agencies were said to have interpreted the "unticketed" description as free to watch and encouraged tourists to visit.
Visitors from the Netherlands were among the disappointed.
Don Ferguson, a Londoner who has since moved to Oregon in the US where he still lives, was also among those turned away with his family.
He said: "The London 2012 website says this event is unticketed.
"The obvious interpretation of that is that it's free to all-comers.
"And that is what other websites interpreted that as."
He continued: "Unfortunately when we get here there are some very, very polite and helpful people telling us we can't get in.
"Unticketed means it's for press and other athletes."
Some visitors told the BBC they had even checked with organisers Locog in advance and were advised they would be able to watch.
Another lady said she had read in Saga magazine that she could attend.
A London 2012 spokeswoman said: "Tickets have not been advertised or sold by Locog for the archery ranking event which starts today at Lord's cricket ground.
"We have always made it clear that the preliminary rounds are not open for spectators.
"There are a number of unofficial websites claiming to sell tickets - we therefore advise people to be extremely cautious and vigilant when attempting to buy tickets and only purchase from an official source."