David Beckham predicts bright future for East End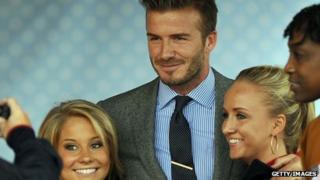 Footballer David Beckham said London 2012 would boost the fortunes of his native East End for generations.
The former England captain, who was raised near the Olympic Village, said the opening of the Games would be an "amazing moment".
Speaking as he made an appearance at City Hall, Beckham said the transformation of the area would not end with the Games.
He also spoke of his pride in bringing the Olympics to his home turf.
During the visit the 37-year-old met schoolchildren and the final torchbearer in the torch relay, Amber Charles, along with London Mayor Boris Johnson and Locog Chairman Sebastian Coe.
The LA Galaxy star, who earlier this week revealed he would have a role in the opening ceremony , recalled the moment when Lord Coe had first brought him in to work with the bid team.
"Over seven years ago, when Seb asked me to get involved with the team that was going to try to bring the Games to a part of London where I grew up I was very proud of that," he said.
"Today [the opening ceremony] is going to be an amazing moment."
Asked about the Games' legacy, he said: "I think there is a huge amount being done.
"The whole area of east London which has been reformed and the amount of jobs that have been created, just purely because of the Olympic Games, is incredible.
"But it is not just something that will stop once the Olympics are ended.
"The facilities are going to be there for young children to go there and perform and also be able to perform in future Olympics, so there is a lot to be said about that."