London 2012: Westfield Arabic banners 'incoherent'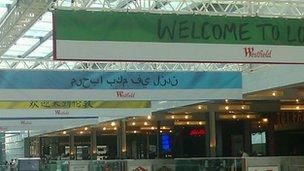 A London shopping centre has created Arabic signs that are "completely incoherent" to speakers of the language, a cultural organisation said.
Westfield Stratford is displaying huge banners welcoming visitors from all over the world for the Olympics.
The Council for Arab-British Understanding (Caabu) said the words were back to front and not joined up as they must be in Arabic.
Westfield Stratford apologised and said it would replace the posters.
The error follows a similar mistake by the train firm First Capital Connect.
The rail firm sent posters to 13 stations printed in English and seven other languages intended to warn people not to leave items unattended.
The company has since replaced the posters.
Westfield Stratford's error appeared on welcome banners and on staff T-shirts.
Caabu said what was written would be the equivalent of an English language sign intending to say "welcome to London", instead saying "N O D N O L O T E M O C L E W".
Its director Chris Doyle said: "After First Capital Connect, and now Westfield, we must start to wonder just how many other Arabic signs printed for the Olympics are nonsensical.
"It beggars belief they cannot even write 'welcome' in Arabic. What will our Olympic guests be thinking? It is cringeworthy."
A spokesperson for Westfield said: "Westfield sincerely apologises for the incorrect printing of the welcome material. The welcome material is currently being reprinted and will be replaced as soon as possible."
Mr Doyle said he thought the mistake was likely to have been generated because of how software handles the words, rather than through an actual mistake in translation.
It advised that Arabic posters should be checked by a speaker of the language.
Related Internet Links
The BBC is not responsible for the content of external sites.