London 2012: Banksy and street artists' Olympic graffiti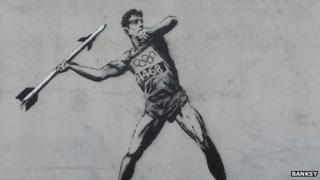 For many, London is the number one place in the world for street art.
But now as the Olympics approaches, many artists are complaining that artwork is being removed in some areas but not in others.
Meandering among the market stalls and curry restaurants of Brick Lane in east London are people stopping to soak up the street art.
Tourists armed with camera phones and art lovers with high-end cameras all stand to absorb the stencils and murals which adorn every available space.
This is one of the few places in London where street art is celebrated.
In fact, an information point at Spitalfields market just down the road counts street art as a highlight.
But, according to street artists, this is not the case across the rest of London as walls which they say have not been touched in years are now being cleaned off.
Authorities say that there has been no official remit for graffiti to be removed - rather, they just clean the walls if someone complains.
But Geoff Whitehouse from Very Nearly Almost, a magazine which documents street art, disagrees.
"It's been going on for over a year or more with a general clean-up around Hackney," he says.
"This is part of a wider issue where councils proclaim to a zero tolerance policy on graffiti as it is vandalism and deemed illegal, yet will also help protect work by Banksy."
A spokesman for Hackney Council said it took time to decide whether something was graffiti or street art which should be preserved.
Helen Bingham, campaigns manager for Keep Britain Tidy, said: "There's a difference between low grade tagging and the work people like Banksy do.
"You have to look at it and know the difference - it's not a black and white thing."
On Monday, Banksy put pictures on his website of stencils with an Olympic-theme on a building. The location has not been revealed.
'Clean street up'
Darren Cullen is a professional artist who was arrested last week on suspicion of incitement to commit criminal damage.
He said he was questioned over his links to a graffiti website. The artist - who was approached to paint the Athletes' Village - was released by police but has been banned from going anywhere near Olympic venues.
"I have no idea why the authorities are trying to clean the street up," he said.
"That is what east London is known for. It is the mecca, the number one place for street art in the world.
"Areas around east London have had street art on walls for near enough two to three years and they haven't been touched and now all of a sudden there's this clean up. It's obviously because of the Olympics."
Olympic organisers Locog said there were not any official guidelines on removing graffiti.
Street artists say their freedom of expression is being curtailed as Olympic-themed artwork is quickly being removed.
One artist who has had a piece painted over is Mau Mau.
His piece, a comment on the Games' alleged corporate and environmental impact, was painted on the side of a privately-owned warehouse which he had permission to paint in Ealing, west London, in July.
It lasted six days before it was painted over by the council.
"I kind of expected it (for it to be cleaned). I guess someone deemed it was offensive to the public," he says.
"It's about the brand police they have now - it's crazy how they're going about it."
A spokeswoman for Ealing Council said the piece was removed following a complaint.
"This is in line with our policy to remove all reported graffiti as soon as possible, unless we have been made aware in advance that it is there with the consent of the building owner and it is not offensive," she added.
Ms Bingham said it was good that councils were removing graffiti.
"It's nice that the whole country is getting a facelift. Graffiti makes an area look neglected and unloved and it impacts how people feel about an area," she said.
"We have a million extra people coming here so we want them to see the area looking its best."
In Brick Lane, a petition was set up to remove a large council banner which advertised the area as the "Olympic 2012 Curry Capital", placed over street artist Roa's mural of a crane.
The petition said: "Everyday hundreds of people are captivated by a beautiful piece of artwork that was given to the people of Tower Hamlets by an internationally renowned artist."
After it received more than 1,700 signatures, the banner was duly removed overnight by the council.