London cycle route safety upgrade plan details unveiled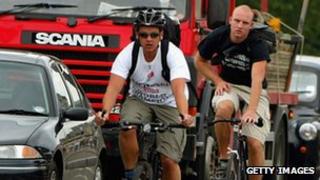 Transport for London (TfL) has published a list of the top 100 junctions it has prioritised for cycling safety improvements.
It said 50 of the junctions would see improvements in the next 18 months.
Improvements will include widened junctions, more segregated cycle lanes and more safety mirrors.
Priority junctions include the Lambeth Bridge northern roundabout, the Waterloo roundabout and the junction of Mile End Road and Burdett Road.
London Assembly Green Party member Darren Johnson said: "The key measure of the success of the mayor's safety improvements is whether an unaccompanied 12-year-old can cycle through them afterwards.
"London's roads have become less safe for cyclists in recent years and I feel that the mayor's policy of smoothing traffic flow is partly to blame.
"I therefore hope that none of the improvements at these junctions, suggested by safety campaigners, will be rejected on the grounds that the mayor is worried that they would create traffic jams."
London Mayor Boris Johnson said: "I am 100% committed to making London's roads safer for cyclists."
Leon Daniels, TfL's managing director of Surface Transport, said: "Our junction review programme has allowed us to relook at key junctions on our road network and identify a range of innovative improvements which, when delivered, will greatly benefit all road users across London."