Newham's fightback against bad landlords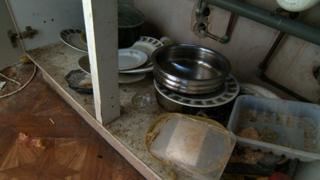 The Olympics are bringing billions in investment to east London, with thousands of new homes being built. But the area near the Olympic Park remains plagued by slum housing and it is bad landlords that are being blamed.
Met officers wearing stab vests knock loudly and repeatedly on the door of a scruffy terraced house in east London and shout: "Police! Open the door!"
Eventually the door is opened by a man wrapped in a towel. "We need to come inside," says an officer. They are followed by council housing officials, there to inspect one of the many shared rental properties in the area.
Housing officers are sometimes accompanied by police as they never know what might await them inside.
Crossing the threshold a stale stench assaults the nostrils.
The hall carpets are dirty, light bulbs are missing from ceiling lamps and the house is split into several rooms, each rented out.
'Life threatening'
Housing officers begin inspecting the house in Ashford Road, East Ham.
Russell Moffatt, Newham Council's private housing manager, points to live wires spilling out from the mains electrical unit downstairs.
He said: "If anyone, like a child, put their fingers in there's a good chance they could get a full 230 volt shock, which is life threatening."
Next he indicates a leaking waste pipe beneath a toilet. Upstairs there is an infestation of cockroaches.
The cooker is filthy, coated in brown stains and the boiler is not working. Tenants say they have not had hot water in the kitchen for weeks.
Mr Moffatt said: "We have safety concerns about this property. There are certain defects - a leaking soil stack, the main electrical board is in very poor repair, there's no heating.
"So, fundamental things you expect in any property to keep people safe and warm are just not there. It makes tenants' lives very difficult."
Upstairs a bedroom door has come off its hinges. The tenant says he pays £400 a month to live there.
Newham prides itself on being one of the Olympic boroughs and many Games venues, including the Olympic Stadium, are within its boundaries.
Billions of pounds are being invested in regeneration, including new housing, however many older properties are in an appalling state and Newham Council is blaming bad landlords.
There are 35,000 private rental properties in Newham and half do not meet acceptable standards, says Mr Moffatt. Of those around 5,000 are in a "diabolical" condition, he adds.
Mr Moffatt said: "We are here to regulate this type of property and make sure they bring the standard up to where it should be so everyone is rightly protected."
Rat catching
Next, housing inspectors move to Margery Park Road, a mile from the Olympic Stadium.
Inside another shared rental house the hallway and kitchen are caked with dirt and mouse droppings litter the area under the kitchen sink. There is also an infestation of cockroaches.
Tenant Patrick Kingori pays £240 a month in rent but wants to move out. He showed us a spring-loaded mouse trap that he sets daily to catch rats.
He said: "There are rats here and many things are lacking. I have killed three big rats. The small ones I have killed are uncountable.
"If I see rats moving about I can't wait for the landlord. I am the only one living here."
It is the landlord's responsibility to keep shared rental houses safe, clean and in good working order.
Both properties we visited had licences as Houses in Multiple Occupation. By law, rental properties with three or more storeys and five or more unrelated tenants must be licensed as HMOs in England and Wales.
Newham Council wants tighter regulation and it aims to be the first borough to require all private landlords to be licensed.
From January 2013 landlords in Newham will pay £150 every five years and those who fail to license properties or breach conditions face fines of up to £20,000.
So who are the landlords that concern Newham's private housing team?
The two houses we visited are both owned by David McGuinness. He is one of the biggest landlords in Newham with dozens of properties, many rented out as HMOs.
'Dilapidated properties'
He also has criminal convictions for failing to manage them safely.
His company McGuinness Properties is based in a small top floor office above a parade of shops in Romford Road, Forest Gate. The office doorway is protected by metal bars.
His website states he buys "dilapidated properties in need of development".
In February 2011 at Stratford Magistrates' Court David McGuinness admitted 21 charges of neglecting three properties.
Offences included unsafe electrics, inadequate fire safety, mould, damp, poor gas safety, a dangerous staircase, rotten windows, dirty kitchens, a front door with no lock, holes in ceilings and other defects.
He was ordered to pay £10,000 in fines and compensation.
Mr McGuinness declined our request for an interview.
In a statement he said he had called in pest controllers to both properties we saw.
He said he was making repairs to Ashford Road and was taking legal action to evict three tenants.
He blamed rain water for the leaking pipe and said the mains electric unit had been sealed.
Mr McGuinness said: "We have a problem with vandalism in the property. The boiler is constantly being destroyed by tenants whenever it is repaired."
He said a cleaner was already employed at Margery Park Road and he was tackling the damp basement.
He added: "I am grateful you have brought these repair issues to my attention. They have all been dealt with."
Watch the full report on the BBC News at Six and Ten on 24 July on BBC One.