'Mole Man' home in Hackney sold for £1.12m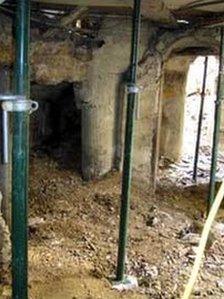 The home of a man who dug a labyrinth of tunnels under his property in east London over a period of 40 years has been sold for £1.12m.
William Lyttle, 79, who earned the nickname Mole Man, had made tunnels up to 60ft (18.2m) long under the 20-room house in Mortimer Road, Hackney.
He was evicted in 2006 and rehoused in a flat, where he died in June 2010.
The house, which he inherited, went under the hammer with a guide price of £750,000, the agent for the sale said.
Hackney Council discovered the network of tunnels under the house, which originally belonged to Mr Lyttle's parents, in 2006 and evicted him over safety concerns.
In 2008 the High Court ordered him to pay £293,000 to Hackney Council for repairs and banned him from going near the property.
The council was left with a £408,000 bill after Mr Lyttle failed to pay for repairs and the local authority spent money on maintenance and putting him up in a hotel until 2009 while they looked for accommodation for him.
Up to 33 tons of debris, including three cars and a boat, were removed from the property after Mr Lyttle's eviction.
The site where the derelict house sits has been granted planning permission for two three-storey town houses with gardens and basements.
Ahead of the auction, Sean King, chief executive of Move with Us, the agency handling the sale, said: "The property is prime real estate in Hackney with the added cachet of being the 'Mole Man's' former house."
Related Internet Links
The BBC is not responsible for the content of external sites.