Hans Kristian Rausing bailed in wife body case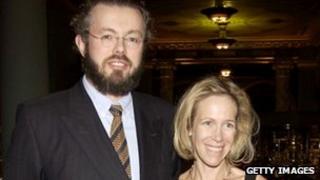 Multi-millionaire Hans Kristian Rausing has been given bail after appearing in court accused of preventing the lawful and decent burial of his wife.
Eva Rausing, 48, was found dead by police in the couple's house in Cadogan Place, Belgravia, on 9 July.
Her decomposed body was found under layers of bedding in a bedroom on the second floor, West London Magistrates' Court heard.
Police are treating her death as "unexplained".
A post-mortem examination proved inconclusive.
Mr Rausing was stopped by police on 9 July on suspicion of driving under the influence of alcohol or drugs.
A subsequent search of the couple's home led to the discovery of Mrs Rausing's body.
Mr Rausing was represented in court by Alexander Cameron QC - the older brother of Prime Minister David Cameron.
District Judge James Henderson granted Mr Rausing conditional bail on two conditions.
He was told he must reside at the Capio Nightingale Hospital and he is allowed to leave only if accompanied by a member of hospital staff.
Mr Rausing was ordered to appear at Isleworth Crown Court on 26 July.
After the hearing, Mr Rausing's parents released a statement which said: "Hans [senior] and Marit Rausing and their families are mourning the death of their son's beloved wife, Eva.
"Her death and the details of subsequent events are a reminder of the distorted reality of drug addiction.
"They desperately hope that their dear son, Hans, may find the strength to begin the long and hard journey of detoxification and rehabilitation."
The statement ended with a plea for time to grieve in privacy.
Mr Rausing's family is said to be worth more than £4bn.
They made their fortune from the Tetra Pak carton firm, although the family exited the company in 1995.