Romanian police tackle West End begging gangs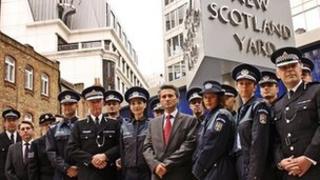 Romanian police officers will help in the crackdown on criminal gangs who target tourists in central London.
The 10 officers joined the Metropolitan Police for three months to deal with cases involving Romanian suspects.
The pilot follows Operation Chefornak, which was launched last November to tackle anti-social behaviour and begging in Westminster.
The operation, which focuses on Oxford Street, Edgware Road and Marble Arch, has led to 796 arrests since November.
Met Police Commissioner Bernard Hogan-Howe said: "The officers will be available to units across the Met to support Romanian victims of crime and assist in cases where suspects originate from Romania."
London Mayor Boris Johnson said: "These Romanian officers will prove to be a huge asset in cracking down on certain criminal networks who are targeting tourists in central London.
"We are only days away from the Olympic Games and this initiative will help to keep our streets safe."
Dr Ion Jinga, the ambassador of Romania in London, said: "We are very keen to protect the good reputation of the Romanian citizens living in the UK."