Reece Ludlow to serve life for Louisa Brannan murder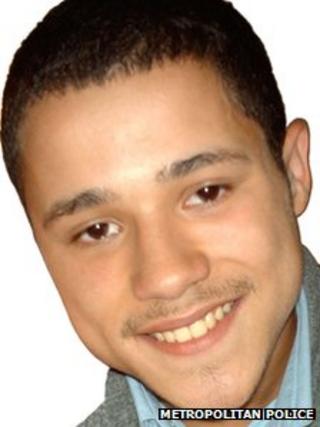 A man who admitted stabbing a woman to death at his flat in south London has been sentenced to life in prison.
The body of 35-year-old Louisa Brannan, from Mitcham, south London, was found in a flat in Oakwood Court, Sutton, on 14 March 2011.
Reece Ludlow, 20, of Oakwood Court, Benhill Wood Road in Sutton, had previously denied murder.
He changed his plea on Monday at Woolwich Crown Court and was told he will serve a minimum of 17 years.
'Vicious and violent'
The police said Ms Brannan first met Ludlow, who was 19, in a Mitcham pub a few days before her death.
On the evening of Sunday, 13 March 2011 they met again and went to Ludlow's home in Sutton.
At about 02:00 GMT the next day, he made a series of telephone calls to his ex-girlfriend in which he confessed to stabbing Ms Brannan, who at this point was gravely injured, said police, but still alive in the flat and pleading for help.
Soon after 05:00 GMT Ludlow made a telephone call to his mother, who went to the flat and called the emergency services.
Ms Brannan's body was discovered in the bathroom.
She had suffered multiple stab wounds to her face, neck and back.
Ludlow had left the property.
Police said inside the flat officers found two bloodstained knives, one of which had Ludlow's fingerprints on it.
Det Insp Dave Reid of the Met's Homicide and Serious Crime Command, said: "Reece Ludlow not only attacked Louise Brannan in the most vicious and violent manner but he failed to call an ambulance and instead spent hours speaking on the telephone instead.
He added that he had never "properly explained" why he attacked her.